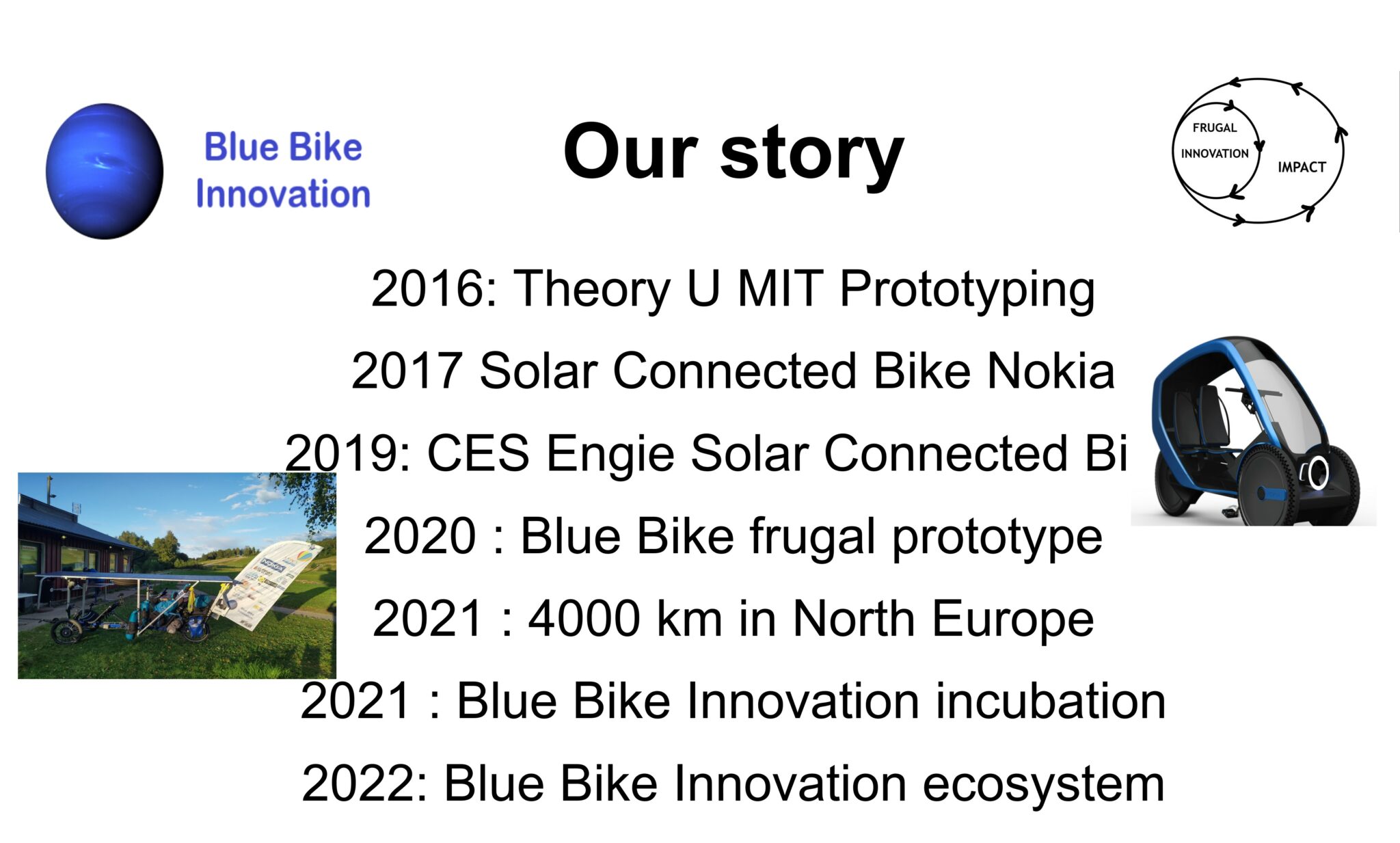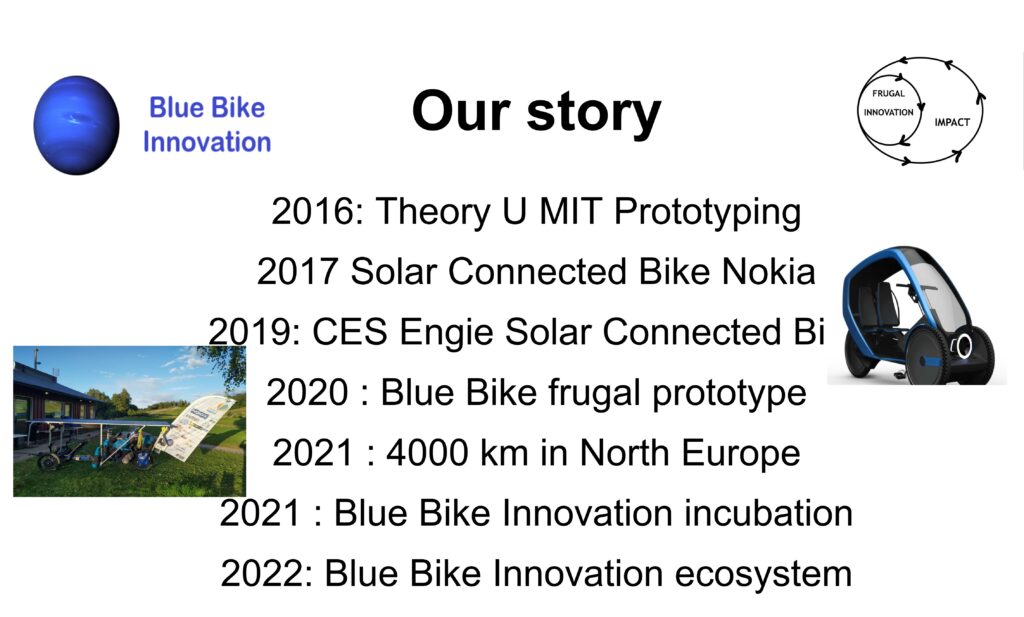 The Solar Bike Open Innovation Project – Interview with Patrick & Fakrou
Back in 2016, Patrick Noel passionate in Innovation, Leadership & Coaching, took an intensive four-month course with MIT's Otto Scharmer on "The Theory U", a change management method for transforming business, society, and self for emerging innovations. One of the requirements for the Theory U course was to make an innovation using the Theory U method.
A committed mountain biker and lover of the outdoors, Patrick is naturally concerned about pollution and the environment. He is also passionate about new technologies. After much thought, Patrick decided he would build a solar bike. He shared his idea with his long-time friend and colleague, Fakrou Akbaraly, who had had also undergone the "Theory U" training and who was equally passionate about innovation and new technologies.
Together, they developed a plan including Innovation, Leadership and Coaching process which they submitted to Nokia Paris-Saclay management. With Nokia Bell Labs sponsor and Nokia "Le Garage" support, the two built an Open Innovation eco-system that designed the bike and built a prototype that they exhibited at the Consumer Electronics Show (CES) in Las Vegas in January 2019 www.youtube.com/watch?v=NN82Lju6TF0 The hybrid Blue Solar Bike is designed to have big autonomy, to be safe and accessible to all people. It enables individuals, local communities and professionals to reach urban, suburban and even isolated areas. Green co-mobility is the core focus of the Open Innovation Eco-System.
The Team Blue Coach Patrick-Fakrou answered to our questions.
How will the Solar Bike use solar energy for smart mobility?
The Solar Bike used embedded hybrid solar, electrical, and mechanical energies. The solar panels fastened to the roof of the Solar Bike deliver 120 km autonomy. Solar energy charges the electric battery which powers the engine.
Could you give more details about the connectivity?
Connected sensors, GPS tracking, health, security, and services applications, help make safe and secure mobile usage of the bike.
This bike or more precisely, a "trike", is accessible to everyone on bike paths and motor roads due to an optimized design protection and respect for road speeds.
The breakthrough design fits customer usages by introducing unique aesthetic and practical needs, with stress-free driving, seat adaptability, and an embedded environment protection camera able to deliver real-time data following local regulations, and enabling professional services (insurance, public safety, bike renter and telecom services…)
Please tell us more about green technology?
The Solar Bike is a green, co-mobility, connected transportation solution. It promotes individual well-being with prevention (health protection mixing personal and professional usage) by adapting the electric assistance with the checkup data collected. The co-biking usage helps optimize resources and can even generate new jobs (for future taxi-solar-bikers, for example). It favors green ecological development (energy, transport, pollution control, traffic reduction …).
The Solar Bike DNA is focusing Circular economy ecosystem. It has unique values compared to other types of mobility in smart cities:
• Solar Bike is available and independent of parking areas.
• Solar Bike is designed for an adult and guest.
• The business model is "fully service-based".
• The Solar Bike product market is focusing on Open Innovation Eco-System.
• Solar Bike can be driven on dedicated bike paths and car roads.
• It is green co-mobility shared stress-free ride usage.
What is the next step?
The next step is our personal initiative for the Blue Bike Innovation Tour in Eurasia to raise awareness and promote green mobility.
The Blue Bike Innovation Tour will cover 12,000 km in less than 100 days in Eurasia in summer 2020. The Blue Solar bike will no doubt be tested to its limits for the start up creation.
This is an amazing trip and opportunity for co-builders to demonstrate its values for Green Energy, Circular Economy, Smart Cities, Mobility and Sustainable Connected technologies. The Solar Bike will provide daily analytics that will allow us to discover new use cases with the types of collected data (health, climate, energies, pollution, nano-particles, carbon gaz capture, routing, …).
It is an opportunity for cross-disciplinary collaboration and an important contribution to boost innovation mindset, to promote IT for Green, Circular thinking interviews usage to bridge and to federate, enrich location development.
Your Futuristic message ?
One motto : Our limit is there is no limit to build a New Blue World !!!